Clinical Redesign
What is clinical redesign?
A proven, structured, patient centred approach to continuously improve our healthcare processes, services and performance. It can be applied across all clinical and non clinical areas to; fix a problem, reduce waste, improve performance, increase efficiency and successfully implement solutions. The strong emphasis on project management, stakeholder engagement, communication and change management ensures sustainable change.
Redesign follows five phases and can include other improvement methods such as LEAN, Six Sigma, AIM, PDSA.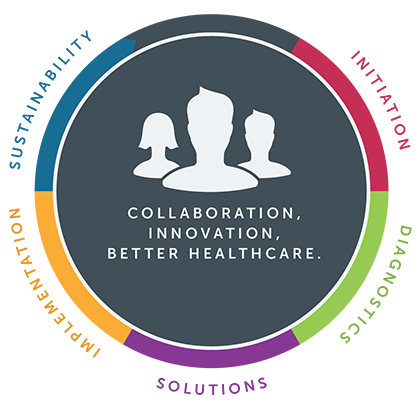 The redesign team provide the following for SESLHD staff;
Project coaching, support and mentoring,

Tools to successfully complete each project phase,

Education and training on project and change management,

Facilitation i.e. patient journey mapping, value stream mapping (process mapping), focus group, brainstorming,

Links to other project leads and innovators locally and state wide,

Data analysis assistance,

Finding resources, and

Knowledge management.
Contact Us
SESLHD-SIIChangeandInnovation@health.nsw.gov.au 
Redesign School
​The Centre for Healthcare Redesign (CHR) at the ACI offers the CHR Graduate Certificate (Grad Cert) Program - 20 weeks, followed by a 13 week Translation Research Unit with the University of Tasmania and Implementation and Evaluation
Information on the CHR Program at the CHR Grad Cert website HERE.    
The ACI lists all previous Centre for Healthcare Redesign projects from across the State HERE.
The Clinical Redesign team also provide:
'Jump Start! An Introduction to Project Management' 1 day course which targets staff with limited or no experience to project management to provide an understanding of project management theory and to become familiar with tools that support the planning, implementation and conclusion of projects. 
'Accelerating Implementation Methodology' (AIM) 2 day course which targets staff looking to learn how to overcome the 'people' aspect of change management. 
To access more information on these and how to enrol visit the Redesign website (internal to SESLHD).
Helpful links
Redesign – online learning with 7 modules in total availble at My Health Learning - 202464685
New South Wales
Bureau of Health Information (BHI) - The Bureau of Health Information publish a range of reports and tools so government, the community and healthcare professionals can see how well the healthcare system is functioning, and where there are opportunities to improve.
ACI Innovation Exchange - The Innovation Exchange provides a collaborative place online to share and promote local innovation and improvement projects and resources.
Excellence and Innovation in Healthcare - The Excellence and Innovation in Healthcare Portal is a joint initiative of the ACI and CEC. The Portal has been established as a centralised, standardised, first-step resource on ACI and CEC initiatives, programs and projects.
Australia
Health Services Innovation - TAS
Improvement and Innovation Program - VIC
Health System Improvement Unit - WA
Clinical Excellence Division - QLD
International 
The Kings Fund - UK
The Institute of Healthcare Improvement (IHI) - USA
Ko Awatea - NZ