South East Sydney Mental Health First Aid for Youth Program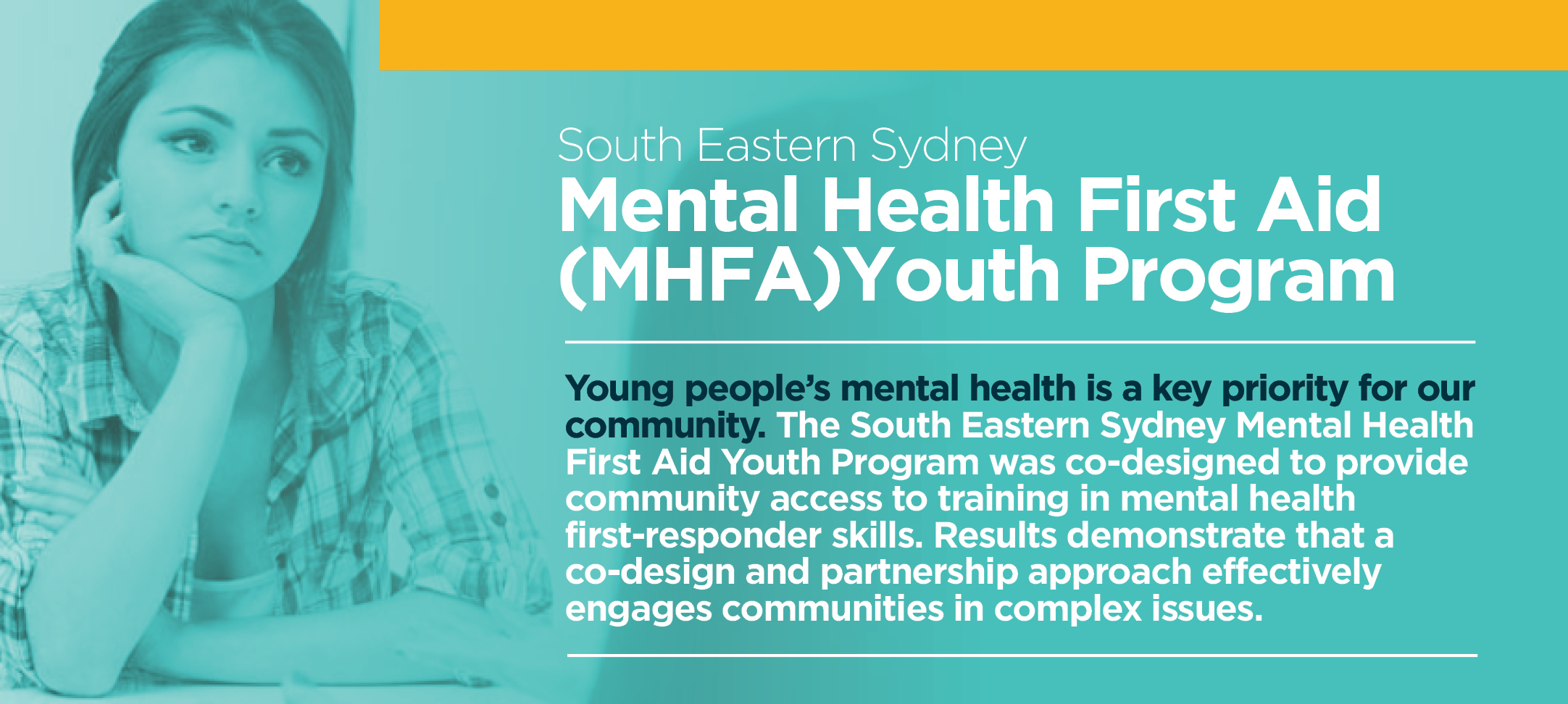 After talking with community stakeholders youth mental health was identified as a key priority we needed to take action on.
We know that linking young people with support early can help to reduce the impact mental illness can have on their development and help them reach developmental milestones.
With the support of the South Eastern Sydney Local Health District (SESLHD) inter-sectorial Board Community Partnerships Committee and the Directorate of Planning, Population Health and Equity's Community Partnerships Unit we launched the SESLHD Mental Health First Aid Youth (MHFAY) Program.
This program has been co-designed and is coordinated by a partnership between community members and key agencies such as SESLHD, Department of Education, Central and Eastern Primary Health Network, Department of Family and Community Services, NSW Police, local councils and headspace Bondi Junction. 
So far, this partnership has supported the training of 15 MHFAY instructors who have gone on to train hundreds of members of the community who support young people, in mental health first-responder skills. MHFAY is an internationally recognised training program that equips adults with the knowledge and skills to recognise and provide assistance to young people experiencing mental health problems. The program has reached community members who support some of our most vulnerable youth including:
young people living with a mental illness
young offenders
young people at-risk of homelessness
young people living in out-of-home care
young refugees
young people disengaged from education
young people from culturally and linguistically diverse backgrounds
lesbian, gay, bisexual, transgender, queer, questioning and intersex young people
Aboriginal and Torres Strait Islander young people
The evaluation we have done to date has shown this program is having positive outcomes, with a statistically significant rise in participants' mental health knowledge, as well as confidence to recognise and respond to young people who are experiencing mental health problems in the community.  
To keep up to date on this program go to our 'Your Voice' website or email SESLHDMentalHealthFirstAidYouth@health.nsw.gov.au.
A SESLHD co-design partnership with key stakeholders and young consumers is building the community's capacity to improve mental health outcomes for young people in South Eastern Sydney.