BreastScreen NSW
BreastScreen NSW provides free screening mammograms (breast x-rays) for the early detection of breast cancer. BreastScreen NSW recommend women aged 50-74 have a screening mammogram every two years. Women aged 40 to 49 and 75 years and older are also welcome to attend. Mammograms can detect breast cancers in the earliest stages, before they can be felt or noticed. BreastScreen aims to reduce breast cancer mortality through early detection. Early detection improves survival and treatment options may be less invasive.
All mammograms at BreastScreen NSW are performed by female staff and no GP referral is needed.
BreastScreen NSW also provide a free assessment clinic for women who require further investigation following their mammogram. The assessment clinics involve a multi-disciplinary team of radiologists, surgeons, radiographers, counsellors and clerical staff. Investigation of possible mammographic abnormalities may include additional mammographic views, ultrasound, needle biopsy and less commonly, surgical biopsy, up to the point of a definitive benign or malignant diagnosis. 9 out of 10 women recalled for assessment do not have breast cancer.
20 minutes every two years could save your life!
For a free appointment call 13 20 50 or 13 14 50 for an interpreter
Appointments
To book your free appointment you can book online, it's quick, its easy, and only a click away or please call 13 20 50. If a language interpreter is preferred please call 13 14 50.
Group bookings available
You may bring someone along to your appointment for support if you wish
No GP referral required
All of our radiographers are female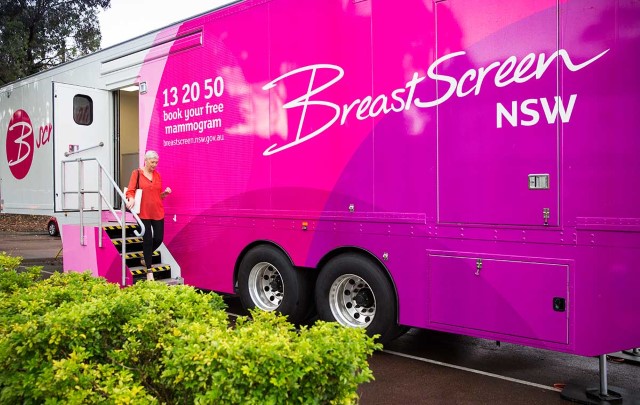 More Information
About Your Appointment with BreastScreen NSW
About What Happens After Your Screening Mammogram
For more details about the program, please visit BreastScreen NSW