Garrawarra Centre
Garrawarra Centre for Aged Care is a Commonwealth accredited dementia specific facility located just south of Waterfall NSW, specialising in the care of people who have advanced dementia, displaying high risk behaviours and who require care in a secure environment.  We are located adjacent to the Garrawarra State Conservation area, centrally located between Sydney and Wollongong. 
Garrawarra Centre is a historic site, having been in operation since 1909 and serving many purposes during its history.  The old buildings remain on site and are heritage protected, bearing testament to the diverse history of the property.  In 2000, a purpose built Residential Aged Care Facility was opened on the Garrawarra site, with a model of care that is holistic and focuses on the individual needs of the person living with significant symptoms associated with dementia.     
Garrawarra Centre is a 104 bed facility.  There are 4 individual cottages, accommodating 26 residents in each.  Each cottage has 10 single rooms and 8 double rooms, which have ensuite bathrooms.  Garrawarra Centre have cottages allocated to males and females only, and do not have mixed residential accommodation. 
The single level secure cottages are designed to resemble 'Californian Bungalows', and are in keeping with an era appropriate to many of our residents' early histories, aiming for a home like environment.  The 'V' shape of the cottages incorporates several comfortable living areas, indoor activity spaces, sensory rooms, lounges and dining rooms, secure side courtyards and a secure main central garden that lies between the 'arms' of the cottage. 
There are secure garden areas between the cottages with activities such as putt-putt, a men's shed, a 'chook' shed, and a Thai-chi exercise equipment area.  We have many garden areas outside of the cottages, which are used in our holistic program of care, including a sensory garden with an aviary.  
Garrawarra Centre's unique location, access to outdoor areas, resources and dementia trained staff enable a high standard of dementia specific care provision for the complex residents referred to us.  For any enquiries, please contact 02 8545 4700.
Our full list of services
News and Media
Hospital news
For more information on Media & Communications click here.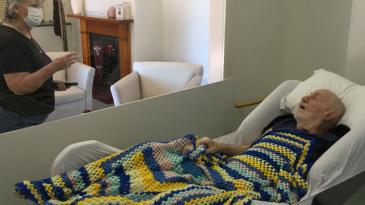 The Garrawarra Centre has been busily working on ways for residents and their loved ones to stay connected during lockdown. The vulnerable dementia…
Read article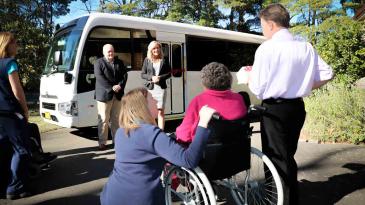 Lee Evans MP, Member for Heathcote, visited Garrawarra Centre on Tuesday, 23 July to officially welcome the arrival of a new bus.   The Member for…
Read article