Positive Ageing - A Good News Story (2010)
Positive Ageing Forum: 8 November 2010
Older Persons' Mental Health Service
Eastern Suburbs Mental Health Services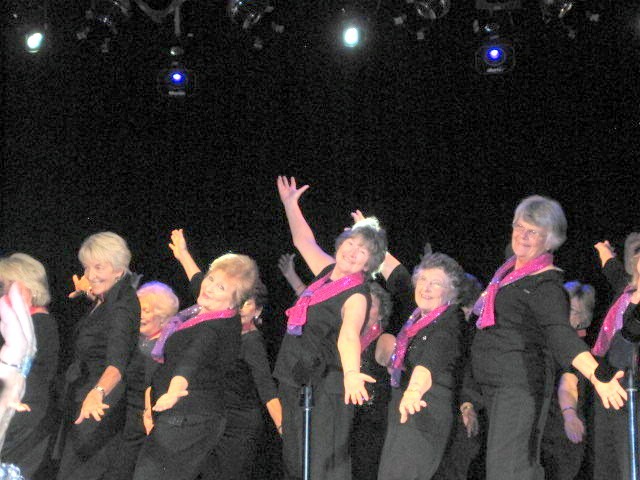 Tap dancers from the COAST Senior Centre entertain the audience
 
Did you know that if you were 65 years of age in 1800 you were dead 27 years ago, in 1900 you were dead 12 years ago, in 2000 you had 12 to 15 years left to go and in 2100 you may be two-thirds of the way through your life?
Now many people are living longer, it is equally important to live longer well. As health professionals, we are charged with helping members of our community to achieve and maintain optimum health, which is continually important and more prevalent given our ageing population.
Professor Henry Brodaty and his team at the Aged Care Psychiatry Service, Prince of Wales Hospital took a proactive approach in informing members of the community living in South Eastern Sydney on staying healthy in one?s sunset years by arranging a free public forum, ?Positive Ageing ? a good news story?.
The forum was held on Monday 8th November and was a resounding success with up to 500 people taking part. In addition to providing invaluable information on positive ageing, the forum showcased local services and social networks for people over 65 living in South Eastern Sydney. An impressive and information-packed event, the forum was opened by Noeline Brown, Australian Ambassador for Ageing, well known media personality and dynamic role model on positive ageing. Ms Brown spoke about why and how to stay healthy and active after 65, and the importance of communities valuing and respecting older people.
Forum attendees heard from Professor Henry Brodaty, who discussed the changes arising from and required by our ageing society. Dr Adrienne Whithall, Research Psychologist Aged Care Psychiatry Service at POWH spoke about the internationally recognised principles of positive ageing and on happiness and ageing.
Four people over 75 years old, who represent outstanding examples of successful ageing, gave their insights, perspectives and, in some cases, secrets on how they remain well and healthy at their age and as they get older. This was followed by a panel of ?experts? and representatives from a variety of local community organisations who provided strategies for achieving positive ageing and how to get the most out of life after 65.
There was even entertainment provided by tap dancers from the Coast Centre for Seniors who were a hit and proved you are never too old to learn new skills and kick up your heels.