POWH ED Simulation Program
POW ED provides simulation training to all levels of doctors in the emergency department.
Interns and RMOs:
sim sessions  each term based around trauma and ALS
SRMOs and Registrars:
monthly 4 hour immersive sessions (occasionally with the nurses) including:
O&G- When did you last deliver a baby? Deal with shoulder dystocia? Manage eclampsia?
Paeds- A session of skill stations and scenarios in the APLS style
Toxicology- envenomations, common lethal overdoses
Trauma- (everyone loves trauma), in the elderly, the pregnant, traumatic arrest
Medical disasters
Mass casulaties
Exam prep ALS
And many more
We also train the medical students in BLS and ALS- please contact Zoe if you would like to be involved.
In the new year POW ED will be relaunching its In Situ sim program. Depending on staffing and bed availability, we will be running up to five in situ simulations a week.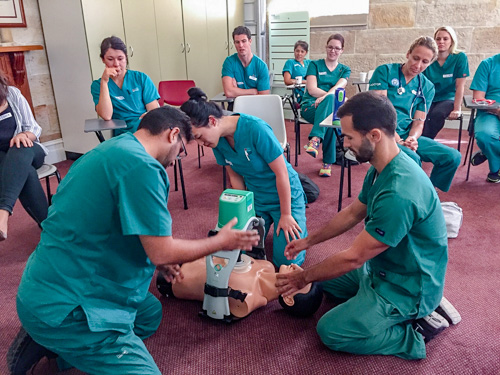 These sessions will run immediately post the morning ward round taking the reg from fast track and an SRMO from acute, with possibly an intern and/or RMO from either section The sim will then run with the nurses from resus and/or the nurse educators, float nurse, or NUM. Security, clerical and ward staff will be all involved.
We will opportunistically grab ambulance officers. It will really be WHOLE of team. This is the perfect way to train  as we mean to fight- all hands on deck, a well-oiled machine. We will build in situ sim into the fabric of the department and help all doctors that come through POW ED to become au fait with being involved in sim, and slick in performing both the team leader and team member roles. Watch this space!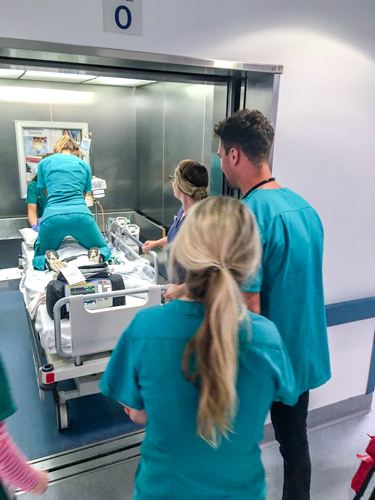 The POW ED sim team understand that sim can be confronting, and we approach each session as an opportunity for all people involved (including the people facilitating the sim) to learn. Simulation is not about any individual's performance, it is about revealing thought processes and exploring the functional ways to approach problems.
We all know that every doctor is a smart, dedicated human doing their best for the patients each moment. Simulation is a safe space to practice difficult things, perform high stakes resuscitations in a low stakes environment.
We also use simulation to drill in good team function- closed loop communication, remaining calm in stressful situations (stress inoculation), regular team updates, both provided spontaneously by the team leader, and those requested by team members.  Simulation is the perfect modality to drill in high stakes  presentations because experience shows that no-one rises to the occasion, they fall back on their training.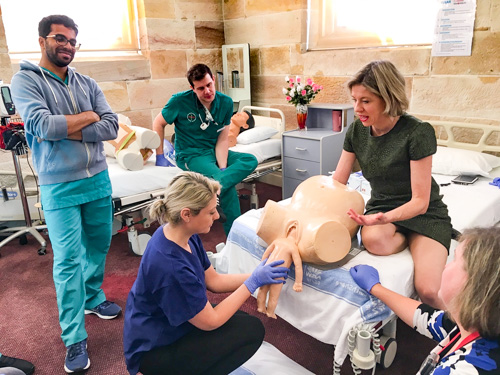 If you have not yet done sim at POW ED- here is a link to an introductory video we did some time ago. New one to follow soon.
We look forward to seeing you all and discovering new and fabulous ways of doing things.