Matron Alice Prichard
Appointed Matron, July 21, 1921
Retired December 31, 1950
Died in the St George Hospital, August 18, 1964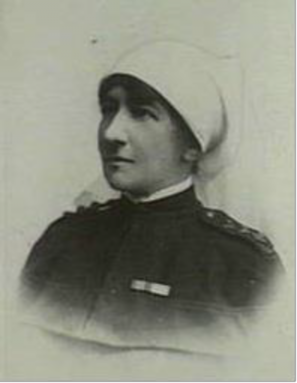 Alice Prichard hailed from the north of Victoria and had been the Matron of Mildura Hospital prior to enlistment. During a brief return to Australia after Gallipoli campaign, Alice Prichard served as Matron of the Glenroy Hospital. She then returned to the war front. After discharge, she moved to Sydney to work.
The Beginning of the Prichard Era in Nursing
According to the 1921 Annual Report, a "great number of applications" had been received for the successor of Matron Cameron but the Board was "unanimous" in their choice of one who "came with certificates of exceptional ability and great experience in large hospitals, especially during her war work, where she had charge of a hospital of 1560 beds."
Nickname Shrapnel Kate
Sometime in 1938 a patient was admitted through casualty into a medical ward. He was a returned serviceman who had been wounded in France and hospitalised in one of the Australian medical run units behind the front line. One evening just on dusk, German aircraft dropped bombs on the hospital sector and staff had to evacuate patients into covered trenches. Nurses ignored the rain of shrapnel falling from spent anti-aircraft fire and went calmly about their task. One nursing Sister was known as "Kate" and she had made a lasting impression with one soldier at least.
Now, that same old solder was in the St George Hospital when in walked Matron Prichard on her rounds. The former soldier took one look then roared at the top of his voice: "Why it's you, Kate, Shrapnel Kate. Don't you remember me!" Matron Prichard did not remember and with a haughty turn of her head walked out of the ward and never returned to visit the old soldier again.
It matters little if the story told by the old soldier was true or not, but what did remain within the hospital was the fact that Matron Prichard had now universally been given a nickname that appealed to all. Shrapnel Kate it was to be, whether it be said in a derogatory fashion or in a familiar and well-meant tone. But no one dare speak of it directly within Matron's hearing. No one had that sort of courage.
Retirement
On December 31, 1950, Matron Prichard signed off after nearly 30 years dedicated and exacting service. Although she had many critics, none could fault her correctness and insistence on professional standards. That she chose to conceal her compassion and warm heartedness under a veneer of alternating aloofness or biting sarcasm on the hospital campus, was soon forgotten when it was finally accepted that "Shrapnel Kate" would no longer walk the wards of The St George Hospital.
Death
Early in 1964 former Matron, Alice Prichard, was admitted to The St George Hospital for tests and treatment. The diagnosis was not good and she returned home to battle her illness with the help of relatives and friends. She was re- admitted to The St George Hospital late in July that year but, despite all the help that medical science could then offer, and the loving care of her "girls", Alice Prichard died in Primrose House on August 18, 1964.
Underground System
Some weeks after Alice Prichard's death, her sister, Miss F M Prichard, told a friend (a doctor at The St George Hospital) how trainee nurses developed an "underground system" of sneaking into the nurses' home when coming in later after leave. A certain window was always left unlatched so entry could be gained without being logged by the home's receptionist. By word of mouth a nurse would know in advance what window was the "one for the night".
Not only did Alice Prichard know about the window but could pinpoint which one was rostered for that night. She even checked while doing her rounds to make sure that it was unlocked, the doctor told the author. This story was verified by two former nurses when interviewed by the author, "The Healing Saint" in 1985. Matron Prichard may have been an enigma to some, but clearly she was a remarkable woman, deserving of all affection, loyalty and the professionalism demanded of her.