Occupational Therapy: St George Hospital
The goal of Occupational Therapy is to enable a person to function within their environment and perform the activities they need or want to do on a daily basis.
At St George Hospital our Occupational Therapist's work across a whole range of settings including:
| | | |
| --- | --- | --- |
| Aged care | Liver | Paediatrics |
| Cardiology | Lymphoedema | Rehabilitation |
| Cardiothoracic | Medical assessment unit (MAU) | Respiratory |
| Colorectal | Mental Health | Renal |
| Gastroenterology | Neurology | Trauma |
| General medicine | Neurosurgery |   |
| Haematology | Oncology |   |
| Hand therapy | Orthopaedics |   |
Outpatient Services:
At St George Hospital we offer a range of community based and outpatient specialist services for people living within the St George and wide SESLHD area.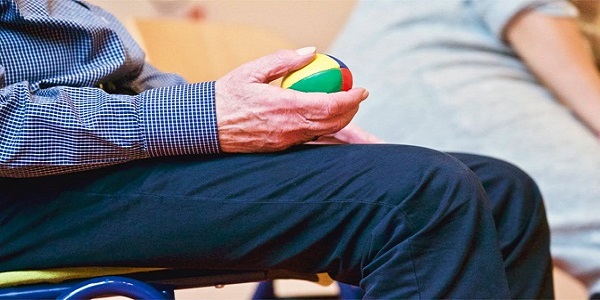 Constraint Induced Movement Therapy
Constraint Induced Movement Therapy (CIMT) is a therapy program that can be used to improve the strength, use and function of a weak arm and hand following a stroke or acquired brain injury.
It is an intensive program that is run over a 2 week clinic at Prince of Wales Hospital, St George Hospital and Sutherland Hospital each year. It involves the encouragement of use of the weak (or affected arm) and restraint of the strong (or unaffected arm). Participants will be required to participate in 4 hours of therapy per day, with an additional 1 hour of homework and commit to wearing the restraint (in the form of a soft mitt) for most of the day.
For more information on the SESLHD CIMT program please click here. 
Hand therapy
Hand injuries and conditions can happen at any stage of life and include broken bones, lacerations, tendon and ligament damage or conditions include Dupuytren's contracture, carpal tunnel syndrome and trigger finger. St George Hospital provides a district wide comprehensive therapy service which includes assessment, evidence based therapy and custom splinting interventions.
St George Hospital hand therapy service is a joint clinic with both Occupational Therapy and Physiotherapy, with our senior Occupational Therapist having over 20 years experience. We receive referrals from orthopaedic surgeons, hand surgeons, plastic surgeons, other specialists, GP's and a wide variety of health professions. 
Lymphoedema 
Lymphoedema is the accumulation of excessive amounts of protein-rich fluid resulting in swelling of one or more regions of the body including arms, legs, trunk, breast, head, neck or genital area. Lymphoedema in  developed following damage to the lymphatic system and can be a result of some cancer treatments including the removal of lymph nodes, following radiotherapy to lymph node groups or with the progression of malignant disease.
The St George Hospital Lymphoedema service is a joint outpatient service with the Physiotherapy Department, covering all of SESLHD (excluding Royal Women's Hospital who run a service for women having treatment at their facility). Please note this is not a 'clinic', there are no doctors or specialists for diagnosis.
The lymphoedema service provides assessment and treatment for primary and secondary lymphoedema, education on risk factors, lymphoedema and care of the swollen limb, treatment including skin care, exercise, manual lymph drainage massage, compression therapy and laser therapy if indicated, measuring and fitting of compression garments and home programs. As part of the Lymphoedema service, St George run an Early Intervention Clinic for breast cancer to identify patients at risk and provide relevant education and early intervention.  
Outpatient Rehabilitation Medicine
The Outpatient Rehabilitation Medicine Occupational Therapy service is a clinic based, multidisciplinary allied health intervention service at St George Hospital. We offer services for patients who reside in the St George area with a variety of neurological conditions. Referral to our service must be from your GP for assessment by our rehabilitation specialists who will then recommend you for Occupational Therapy intervention.
The type of Occupational Therapy intervention is specific to a patient's goals and may include activities of daily living retraining, upper limb retraining, cognitive retraining or community access.
Our department also specialises in spasticity management and Botulinum Toxin injections for clients across the whole SESLHD area as it is a specialised service that is not available at all hospitals.
Prevent Alcohol and Risk-Related Trauma in Youth (PARTY) program
In Australia, traumatic injury is the leading cause of death in people under the age of 45. Young people in this age group are grossly over represented in injury and trauma statistics, both in terms of death and long term disability.  Road trauma is still one of the most common causes of mortality and catastrophic injury in youth.
The P.A.R.T.Y. program is an interactive experience where participants see what it's really like to be a trauma patient. Through video's, PowerPoint presentations and interactive simulated clinical scenarios, participants will meet health professionals, emergency services personnel (e.g. ambulance officers), and people who have experienced trauma and survived, often with significant disabilities. The P.A.R.T.Y is targeted to students aged 16 years old from local high schools in the St George and Sutherland area.
Our Occupational Therapists are a part of the program, providing practical hands on insight into what it is like for a patient in hospital recovering from a traumatic injury and the impact on their day to day life. 
Quick Response Program (QRP)
The Quick Response Program (QRP) is an aged care multidisciplinary community team who provide a short term service (up to 6 weeks) to assist people to remain at home safely. QRP provides a follow up service after an acute event or when there is an urgent concern regarding clients in the community. Referrals come from the Emergency Department at St George Hospital, the aged care wards at St George Hospital and from the community.
Our Occupational Therapist's provide home assessments, assessment of ability to manage at home, assessment and prescription of equipment and home modifications, energy conservation, pressure care.
Rose Cottage Day Rehabilitation Unit
The Rose Cottage Day Rehabilitation Unit is a clinic based, multidisciplinary allied health intervention service of St. George Hospital for recently discharged patients requiring further outpatient rehabilitation. The Rose Cottage Day Rehabilitation Unit is targeted towards people with neurological conditions or following multiple trauma's and aims to provide a holistic, person centred and intensive period of rehabilitation following an inpatient admission. Therapy goals for multiple allied health disciplines are required to meet the Day Rehabilitation Units eligibility criteria.
Occupational Therapy intervention is specific to a patients goals. This may include: activities of daily living retraining ,upper limb retraining, cognitive retraining or community access.