Patients Carers Visitors
The Royal Hospital for Women is committed to providing innovative patient care which doesn't end when you leave the door. 
The Royal Hospital for Women has been one of Australia's foremost specialist hospitals for women and babies, since its early beginnings as New South Wales first 'lying-in' hospital for women in 1820.
As a principal teaching hospital of the University of NSW in the fields of obstetrics, gynaecology and neonatology the Royal has a history of innovation in women's health care services, teaching and research. 
The Hospital is also affiliated with the University of Sydney collaborating on research in maternal, perinatal and women's health.  Research conducted by the Midwifery & Women's Health Nursing Research Unit leads to the translation of findings into clinical practice.
The main areas of specialisation include breast care, gynaecology, gynaecological oncology, maternity, maternal fetal medicine, menopause, newborn intensive care and reproductive medicine.
Each year the Hospital delivers more than 4,200 babies; cares for more than 600 premature babies; treats more than 400 women for gynaecological cancer; provides surgery for more than 80 women with breast cancer; attends to over 450 women requiring acute care services; helps more than 600 women through gynaecological procedures.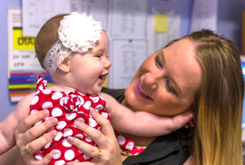 RHW Activity and Safety and Quality Data