When You Leave
Discharge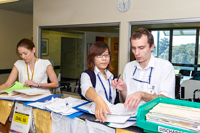 The healthcare team will work with you and/or your family/carer to plan your discharge and your ongoing care.
Once you have been medically cleared for discharge, arrangements will be made for you to leave the hospital on the agreed day. Discuss your transport arrangements with your healthcare team.
We aim for all patients to be discharged prior to 10.00 am on day of discharge for patients who stay more than one day.
The staff will discuss with you the things you may need on discharge. For example:
community services
medication information and pharmacy advice
follow-up appointments
special instructions
If you usually receive community services at home, please let the staff know. Before you leave hospital, the service providers will be contacted so that they can recommence their care. This can be done either by hospital staff, you, your family or carer. Additional services may be organised, in consultation with you, as required.