Research
It is our vision to create an academic environment, always open to new ideas in all aspects of trauma care, in the managerial, clinical as well as basic research sector. In particular, we would like to raise the interest for academic trauma care in clinicians, encouraging under- and postgraduates to work with us.
St George Hospital Trauma Research Program
In collaboration with The University of Sydney, The George Institute for Global Health, UNSW, NeuroScience Research Australia (NeURA) and Centre for Healthcare Resilience and Implementation Science (CHRIS) Macquarie University.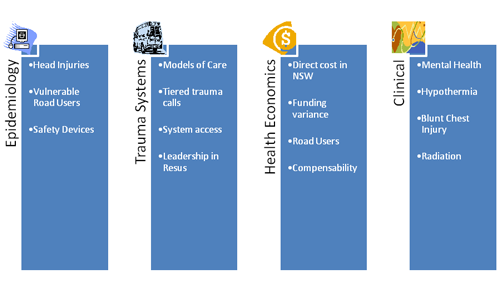 Current Projects/Collaborations
The impact of the trauma nurse coordinator on patient and health service outcomes in Southampton University Hospital. 
Crouch, Curtis, University of Southampton
Evaluation of a structured assessment model for emergency nurses (HIRAID). 
Munroe, Curtis, Murphy, Hardy, Buckley & Lewis. Sydney Nursing School, Westmead Emergency Dept
Investigation into the role of a wound care CNC in a tertiary referral center. 
Dutton, Curtis, Chiarella, Sydney Nursing School & St George Hospital
Does the implementation of a rapid assessment team "CHIP" for blunt thoracic injury patients presenting to the ED reduce complications and improve outcome? 
Curtis, Asha, Goldsmith, Unsworth, Myburgh,  Sydney Nursing School & St George Hospital, UNSW – St George Clinical School.
Predictors of analgesic use and compliance following hospital discharge after major trauma. 
Goldsmith, Curtis, McCloughen, Sydney Nursing School & St George Hospital
Life Threatening Injury in Young People: A mixed methods study. 
Ogilvie, Foster, McCloughen, Curtis, Sydney Nursing School, University Canberra
Impact of trauma team redesign at a level 1 trauma centre
Murphy, Curtis, Hsu, McCloughen Edwards & Curtis, Sydney Nursing School, Westmead Hospital
Ward-Based e-Learning Trauma Patient Management evaluation
Curtis, Wiseman, Kennedy, Kourouche, Sydney Nursing School & St George Hospital, MAA
The CONFORM study (PrediCtors Of analgesia use and regimeN adherence FollOwing dischaRge after Major trauma). 
Trauma Service, Sydney Nursing School, Motor Accidents Authority NSW
Paediatric Critical Injury Research Program.
Curtis, Foster, Mitchell, Day of Difference Foundation and other partners