MotherSafe
MotherSafe is a free telephone service for the women of NSW, based at the Royal Hospital for Women, Randwick. 
About MotherSafe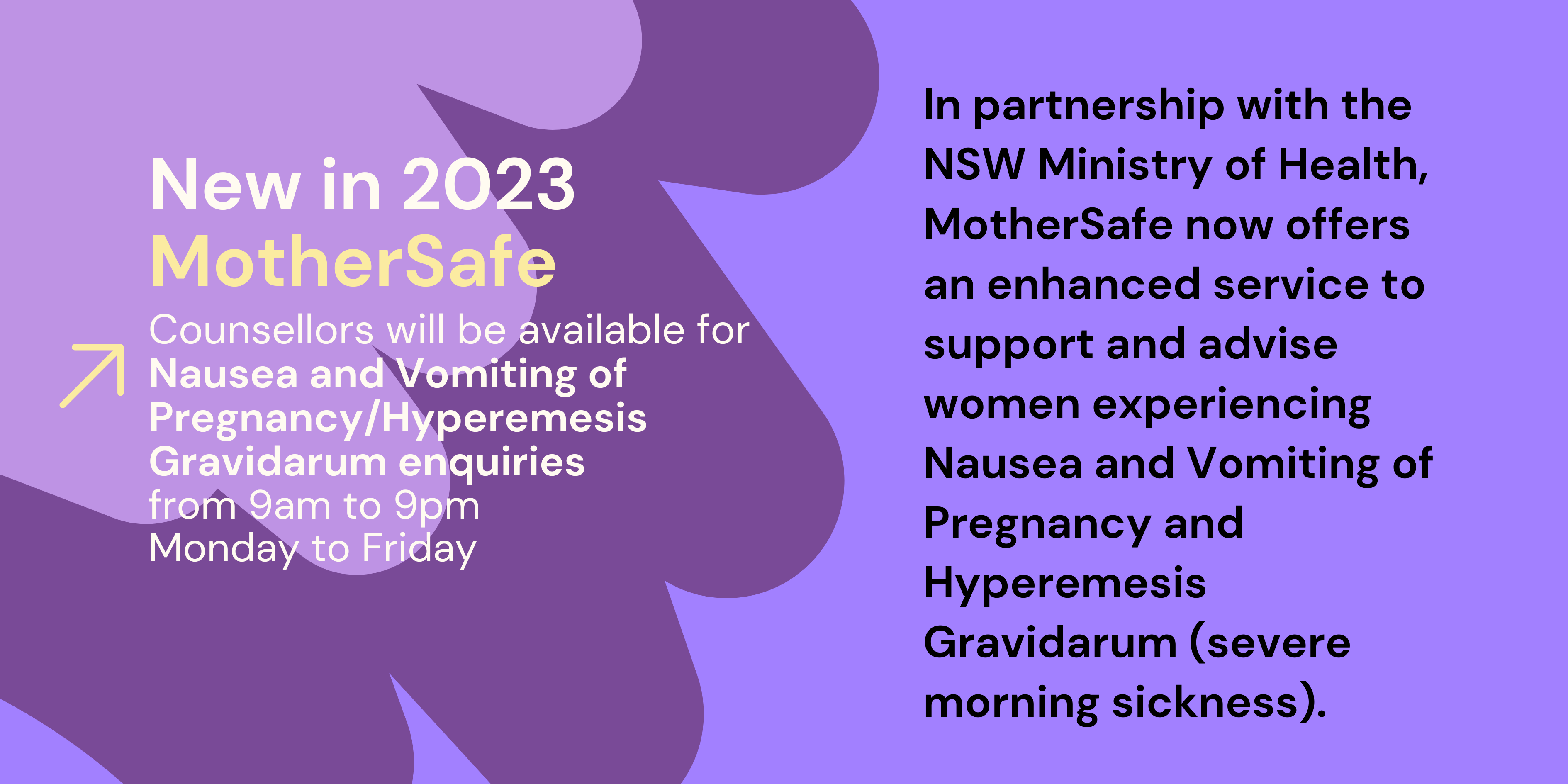 Nausea and Vomiting of Pregnancy/Hyperemesis Gravidarum
MotherSafe will be open for extended hours to provide information to families and Health Care Providers about safe and effective treatments for Nausea and Vomiting of Pregnancy and Hyperemesis Gravidarum.
Counsellors will be available from 9am to 9pm Monday to Friday.
Women who call the MotherSafe Nausea and Vomiting of Pregnancy/Hyperemesis Gravidarum service will be assessed for the severity of their symptoms and be given evidence based information regarding available treatments. Referral to other specialised services will be given if required.
An online Telehealth appointment with a MotherSafe doctor may be offered to women who have severe symptoms and are not able to access a doctor in their local community.
Regular MotherSafe service
The MotherSafe service provides a comprehensive counselling service for women and their healthcare providers concerned about exposures during pregnancy and breastfeeding. Such exposures may include:
Prescription drugs
Over-the-counter medications
Street drugs
Infections
Radiation
Occupational exposures
Some women may be offered face-to-face counselling appointments at the MotherSafe clinic which is held each week at the Royal Hospital for Women, Randwick. An interpreter can be arranged for women who do not speak English.
For common exposures please refer to our factsheets which may provide some general information and guidance. For individualised advice or clarification of information in our factsheets please call our telephone service on 9382 6539 or 1800 647848.
Non-English Speakers
Non-English speakers can access an interpreter through TIS National by phoning 131 450. You should tell the operator the language you speak, as well as the name and phone number of the organisation you wish to contact.
There is no charge for interpreter costs when contacting a government-funded service or agency (such as MotherSafe or the Royal Hospital for Women).