Getting Here
You can find a map to our department below (you can click on the image to get a bigger image) plus directions to our services according to your method of transport.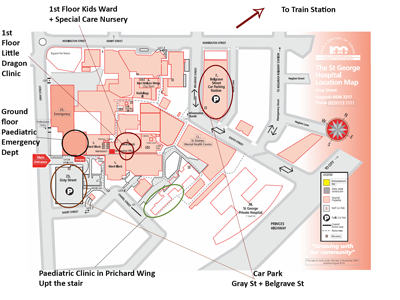 By Car:
Parking is available at St George Private Hospital or in nearby carparks on South St
By Bus:
The hospital is within walking distance of the Montgomery St Bus Stop of the Free Kogarah Shuttle Bus service http://www.sydneybuses.info/free-shuttles
The 446, 476 and 477 buses all pass by St George Hospital, and from there it is a short walk to the rooms. To plan your trip go to http://www.131500.com.au/
By Train:
The nearest railway station to St George Private Hospital is Kogarah railway Station, on the Southern Line. It is a short walk down Montgomery St from the railway to the hospital.
Contact us on (+61) (02) 9113 1925