Aboriginal Services
Narrangy Booris
Narrangy Booris is a free Aboriginal Child & Family Health Service based at Menai for families living in the Sutherland Shire or St George area caring for children under five years.
The Narrangy Booris team includes Child & Family Health Nurses, Aboriginal health workers, a speech pathologist, occupational therapist, social worker and a paediatrician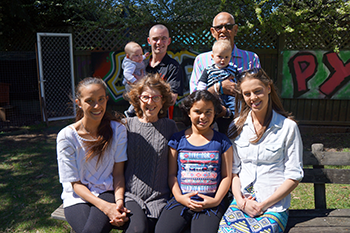 Free services
Narrangy Booris is a free service. We'll discuss your family needs and connect you up with the health providers you may need for your child.
We offer the following services:
Blue book health checks
Information on infant feeding and nutrition
Hearing testing
Health assessments and therapy
Counseling and Support
Help with family issues
Parenting and Support groups
Referral and support to access other services
Linking with Koori Kids Playgroup
Who is eligible?
Aboriginal mothers, fathers, grandparents, aunties/uncles and carers who live in the Sutherland Shire/St George area and care for a child under five years. We can see you in your home for your baby health checks, at your local community health centre or a place where you and your child feel comfortable.
More information
Download our Narrangy Booris brochure.