Site Specific Authorisation
Site Specific Assessment (SSA) applications will be reviewed by the Research Ethics and Governance Office in accordance with NSW Health PD 2010_056 Research - Authorisation to Commence Human Research in NSW Public Health Organisations.
Please note: You cannot commence your study until you have SSA authorisation.
Please ensure before submitting your SSA:
That you have personally contacted the Head/s of Department/s (HoD) to discuss your resource request, ensuring they are the correct HOD and have had the opportunity to ask questions.
That you have the correct CPI and PI listed within your SSA. Please refer to the OHMR website for clarification of roles.
That you have successfully gained Contingency Worker Status for each research team member who are not SESLHD employees. For information on contingent worker onboarding and access to SESLHD sites, please contact SESLHD People and Culture: Ph: (02) 9382 3070 | E: SESLHDPeopleandCultureEnquiries@health.nsw.gov.au or SESLHD-PositionMaintenance@health.nsw.gov.au
That you have completed and complied with the Governance Checklist or it will be ineligible for review.
That you agree to return requested information from the Research Office within 30 days of the request, or your project will be withdrawn.
For Governance Site-Specific Applications (SSA), the following must be included in the submission to REGIS along with other project-specific documents for governance review to commence:
Site-Specific Authorisation (SSA) Timeline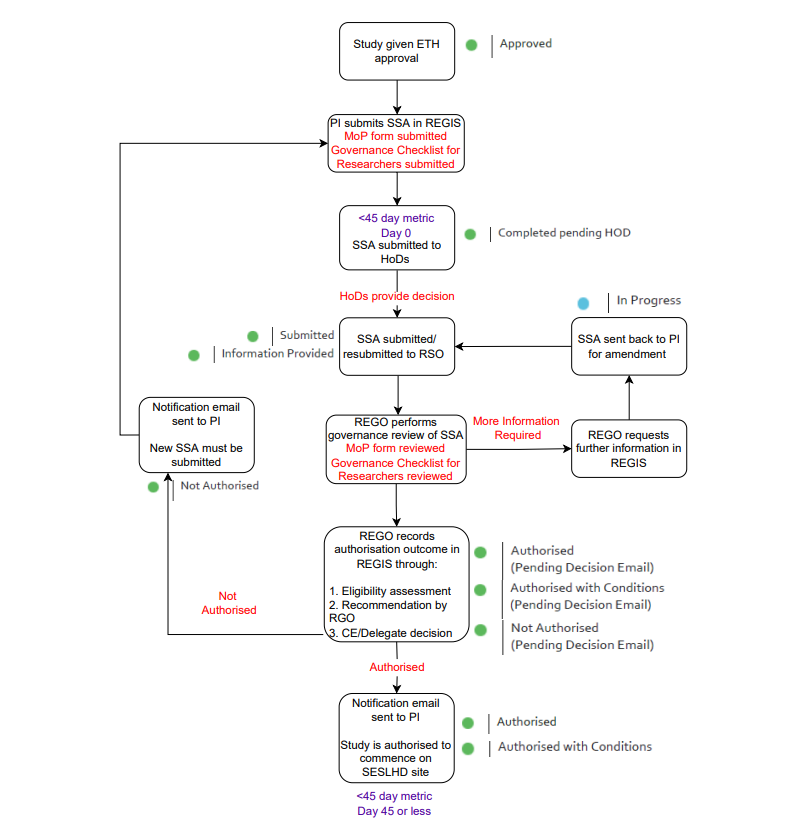 Requirements for SSA Applications