Prior to Starting
Before embarking on a research project, it is important to consider: How can the project ultimately lead to improved system change? And why is it important or worthwhile? Your project idea may stem from a gap you have identified in the healthcare system, or it may build on an existing evidence base.
IMPORTANT: It is essential to refer to the PRE-SUBMISSION GUIDE available. BEFORE submitting an email query or application to the Research Office. 
The Research Office holds regular Q&A sessions providing an opportunity for researchers to ask any questions they may have about the ethics and governance process. You are encouraged to attend the Q&A session prior to starting a new application. You can access the webinars on the Education page.
Do you have an idea?
Examples of common research projects include:
Clinical Research - observational studies in the clinical setting which are designed to understand, find and treat illnesses as well as identify other health issues.
Clinical Trials - research projects prospectively assigning human participants or groups to one or more health-related interventions to evaluate effects on health outcomes.
Human Research / Social Science - any study designed to gain information and understanding about health or studies seeking to understand social behaviour through measuring social phenomena, discovering social irregularities or creating social theories.
Other Research - any study that does not fall under the other categories e.g. population and public health studies which aim to develop or contribute generalisable knowledge to improve practice.
Human Research Ethics Application (HREA)
The next step in the research process is to submit an application to the Research Ethics and Governance Information System (REGIS). This is then reviewed by the SESLHD Human Research Ethics Committee (HREC) and the Research Office who must provide ethical and governance approval before the study can begin.

REGIS is an online portal for the management of ethics and governance applications across Public Health Organisations (PHOs) and Local Health Districts (LHDs) within NSW and the ACT. It was established by the Ministry of Health (MoH) to streamline the application process.
It is the responsibility of researchers to learn how to operate REGIS to not only obtain ethics and governance approval, but navigate the platform to manage projects for the duration of the study. This includes learning how to register projects, make amendments, store documents and create annual reports, among others. Any queries or troubleshooting should be directed to the REGIS team.
Quick Reference Guides and training sessions on registering and managing your REGIS account can be located on the REGIS website. Alternatively, you can access Youtube Tutorials for a step-by-step visual guide.
Tips for your Ethics Submission:
Follow the Ethics Eligibility Checklist.
State the correct Sponsor Type.
Use a Protocol Template from the Research Office website (strongly recommended).
Clearly identify the Coordinating Principal Investigator (CPI) and and Principal Investigator (PI).
Ensure you have engaged all persons relevant to your project (i.e. Head/s of Department/s). This can significantly reduce delays throughout the approval process.
Upload the Method of Payment Form, Ethics Eligibility Checklist and any additional supporting documentation (such as questionnaires, phone scripts etc.) with your submission in REGIS.
Submit within the HREC submission dates using REGIS training and/or Quick Reference Guides.
Given the HREC meets monthly and your project may require review at a subsequent meeting, please allow for this within your project timeline.
Tips for your Governance Submission:
Follow the Governance Eligibility Checklist.
Clearly state the resource requirements, with sign-off on the use of these resources (including in kind) from Head/s of Department/s.
Site-specific documents should be based off the Master which has been ethically approved by the HREC.
Please use the correct institutional details on Agreements/Contracts located here.
The Role of the Research Office
The SESLHD Research Office manages review and approval of applications to the HREC and review of site/governance applications for authorisation by the Local Health District (LHD). Depending on your query, you should either contact your local Research Office, the REGIS Technical Help Desk or NSW eHealth REGIS Support Team - please visit the Contact Us page for more information.
Planning your Project
Once you have decided on a project idea, you will need to identify a research question and the most useful methodology for yielding results. There are many ways you can think about research and no fixed set of rules that apply to every circumstance. However, there are different frameworks and models available that have proven to be effective in ensuring research meets the criteria for ethical and governance review. For example, you can use a program logic to plan your project.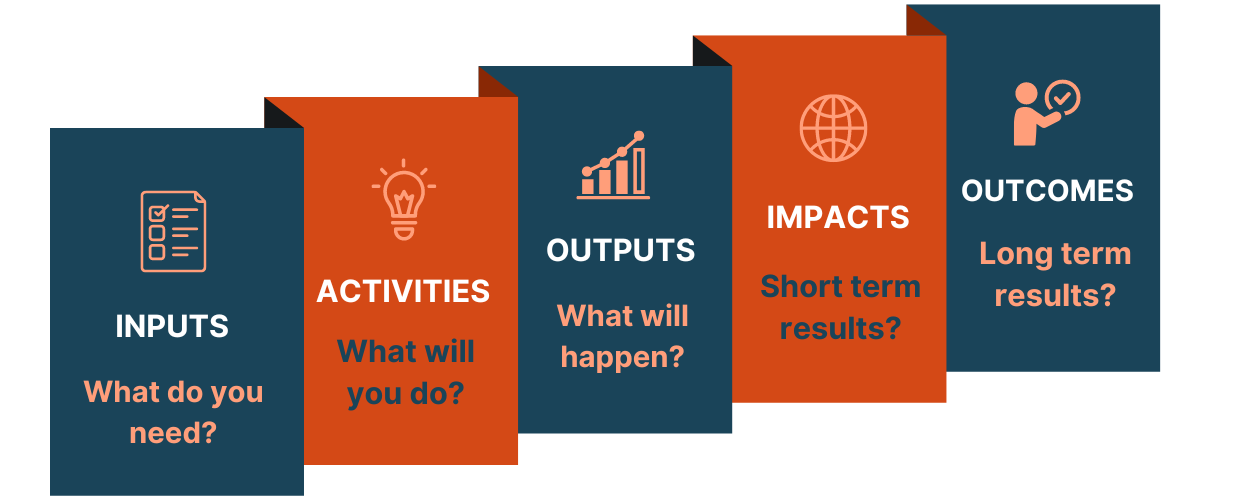 A program logic model is a schematic representation of how a project is intended to work by linking inputs to outputs, intermediate impacts and long-term outcomes. Benefits to program logics include:
Useful for engaging stakeholders in planning and evaluation as well as communicating program concepts
Provides effective framework for evaluating the study at completion
Aligning project outcomes to local, state and/or national priorities - this is a requirement for many grant funding opportunities
For more information on: