Public Health Unit Aboriginal Support Team - SESLHD
Acknowledgement of Country
SESLHD Public Health Unit acknowledges Aboriginal and Torres Strait Islander people as the traditional custodians of Country throughout Australia. We acknowledge the lands we work and provide care for as Dharawal, Gadigal, Wangal, Gweagal and Bidjigal. We pay our respects to Elders of the past, present and future generations and extend that respect to all Aboriginal and Torres Strait Islander people. Our team are committed to improving Aboriginal and Torres Strait Islander health with shared knowledge, care and providing culturally appropriate services.
COVID-19 & Influenza Vaccinations
COVID-19 booster vaccination – if you are 75 years or older and haven't had a COVID vaccine in the past 6 months you should get your booster NOW. For those aged 18 - 74 years, you are eligible for a COVID booster – please consider especially if you have other health problems. COVID vaccines are free, and available from GPs and local chemists. COVID-19 booster vaccination doses help maintain your COVID-19 immunity, to continue protecting you from COVID-19 and any new strains of this virus. 
Influenza vaccination – recommended and FREE for ALL Aboriginal people 6 months and over EVERY year – get yours now from your GP (Doctor) or local chemist. Make sure your health service knows you identify as Aboriginal to qualify for free vaccine (please check first if they charge a service fee; children under 5 need to go to a GP).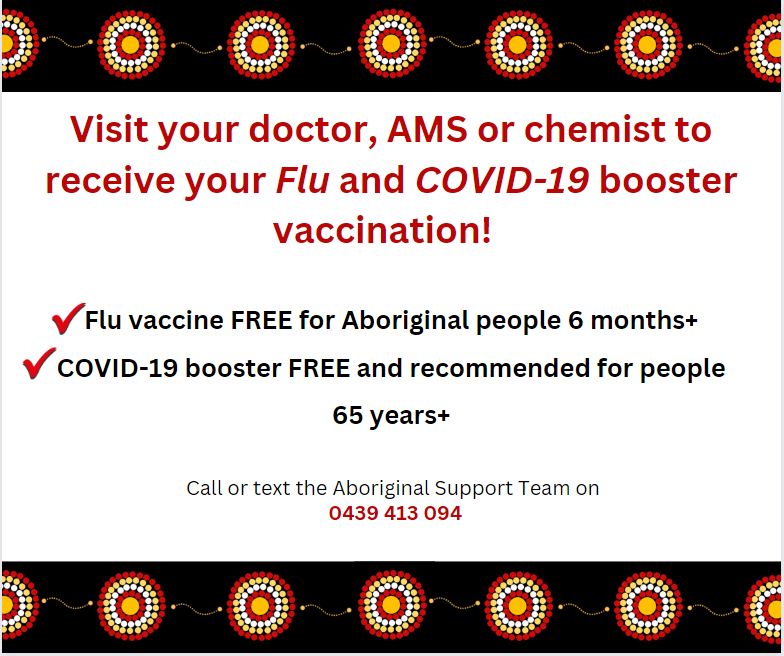 Medicare Urgent Care Clinic
Maroubra Urgent Care Clinic is now open, seven days a week, from 8am to 8pm – please check out the website for a list of conditions that can be seen by a doctor and nurse at the clinic
You can either book an appointment online, call 02 9349 9001 or walk in to the clinic.
Address: 806 Anzac Parade, Maroubra NSW 2035