NSW Telestroke Service
How we can help you
Prince of Wales Hospital in Sydney, hosts the NSW Telestroke Service. Our service supports Hospitals in regional and remote NSW to care for people who have symptoms of stroke. This is a virtual, telehealth service, meaning our Doctors provide services via telephone or videoconference.
Stroke
A stroke is a serious medical emergency that occurs when there is a decrease in the blood supply to your brain and seriously affects its function. Urgent medical attention is required to prevent permanent damage or possibly death.
If you are worried that you, or your family/friend is having a stroke, dial 000 immediately and ask for an ambulance.
You can find the signs and symptoms for stroke in this Stroke Foundation information.
Our service saves lives by providing immediate access to stroke specialists for urgent assessment, diagnosis and treatment. By using technology our doctors are able to work from another location to provide care in local hospitals, helping patients to stay close to home. We are able to provide this service 24 hours a day, 7 days a week.
This video will show you how our service works to help you if you are having a stroke.
Our team includes Doctors, nurses, and people skilled in information technology, radiology and administration. Our Doctors are specialised in caring for people who experience stroke and are based in Hospitals across NSW. 
We work with rural and regional referral Hospitals that have the equipment, imaging and staffing to connect with our service. 
Stroke is a medical emergency. If you are experiencing a stroke you need urgent diagnosis and treatment to prevent damage to your brain. If you, or a loved one, has had a stroke, call an ambulance. The Ambulance will assess you and take you to a hospital that provides stroke care.
The Emergency Department will assess you further. If they think that you have had a stroke, they may call the NSW Telestroke Service and discuss your condition with a specialist doctor. The Telestroke specialst doctor will ask the hospital to order some blood tests and imaging of your brain. the specialist doctor can see these images from their location and will work with the Emergency Department team to make a diagnosis and recommend treatment. The team looking after you will talk to you about the options, and can also talk to your family. 
For more information on the NSW Telestroke Service see our patient information pamphlet.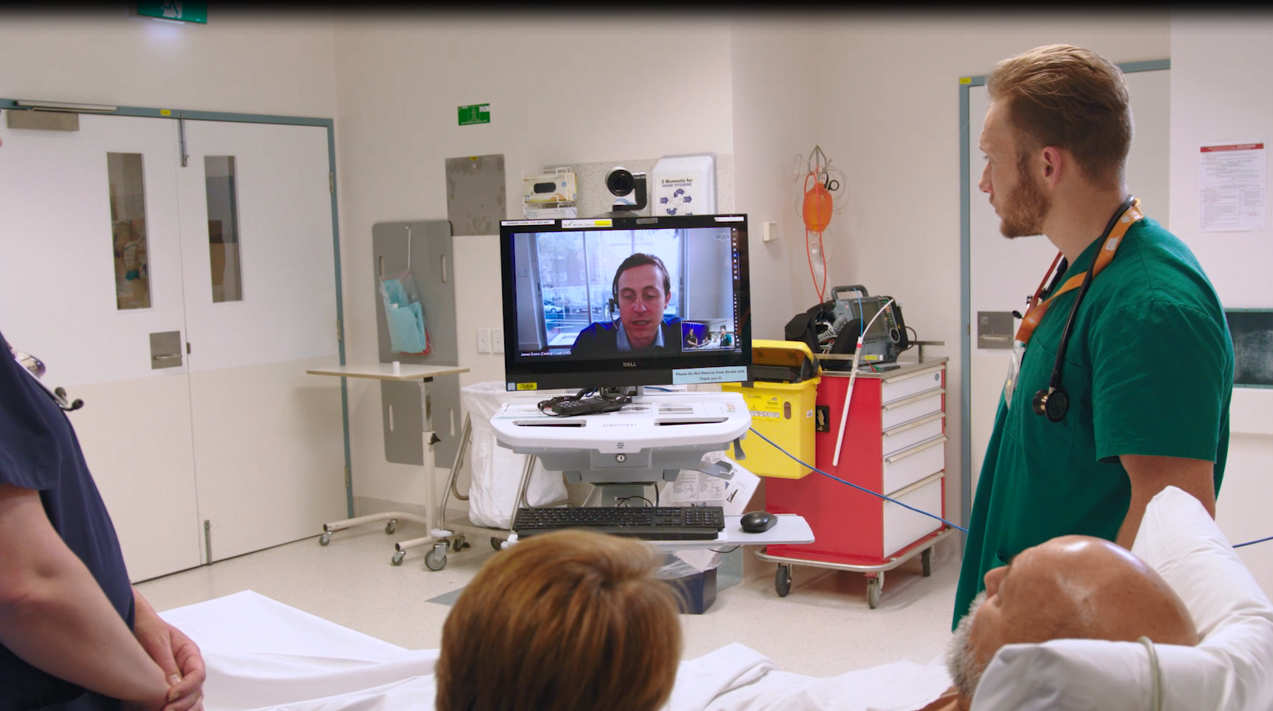 Our stroke specialists will talk with you, your support person, and the local Hospital team about your diagnosis, treatment and management options. If you or your support person are not able to be consulted prior to treatment, the telestroke doctor will make a treatment decision on your behalf to avoid delays and potentially increase your chance of recovery.
An ischaemic stroke is when you have a clot blocking a blood vessel and reducing the blood (and oxygen) being carried to your brain. The aim of treatment is to remove the blockage as quickly as we can and re-establish the blood flow to your brain. Two of the treatments are:
Thombolysis - We give you a medicine that dissolves the clot and improves the blood flow. See our fact sheet for more information.
Endovascular clot retrieval (ECR or thrombectomy) - When a large blood vessel in the brain is blocked, a procedure to remove the clot may provide your best chance of recovery. This can occur after thrombolysis has been used. See our fact sheet for more information.